See on Scoop.it – augmented world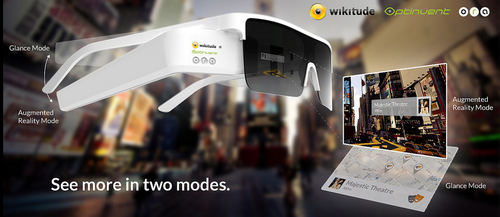 Wikitude, the world leader in augmented reality solutions has partnered with Optinvent to build the first true augmented reality glasses platform by combining Optinvent's ORA-S see-through display and Wikitude's software development kit (SDK). Images and video demonstration are now available.
augmented world's insight:
Through this partnership with Optinvent, Wikitude has a strong collaborator in the wearable display technology market. Optinvent's unique dual mode display, in combination with our complete technology package, offers developers a true augmented reality platform that will power the next generation of wearable computing.
Since announcing the expansion into the wearable display technology market in April, Wikitude has seen unparalleled demand for its SDK from developers interested in building "hands free" AR applications. Google Glass has introduced the general public to the possibilities and potential of this technology, but in fact is not designed to enable true augmented reality.
With it's patented "Flip-Vu" technology, exceptional image quality and form factor, Optinvent's ORA-S provides an extraordinary visual experience. The display can be flipped up into true "AR" mode, directly in the line of sight for immersive experiences, or flipped down to "Glance" mode where digital information becomes less obtrusive. These two visualization modes greatly enhance the user experience and ergonomics, depending on the use case and situation.
"We're very excited about our collaboration with Wikitude to run the world's leading augmented reality software on our game changing ORA-S hardware platform. Wikitude's proven SDK will allow for a premium experience and app developers can now build their own amazing never before seen applications. Optinvent is proud to have Wikitude as a partner," says Optinvent CEO Kayvan Mirza.
See on eon.businesswire.com