See on Scoop.it – augmented world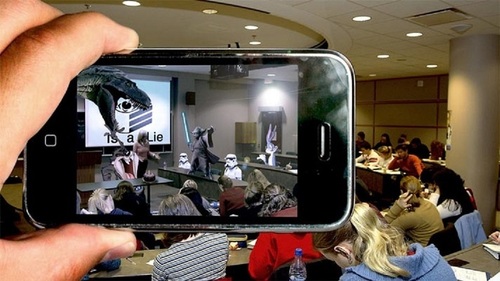 So wouldn't it be wonderful if our mobile phone see and recognize the world as we do. Like walking and seeing the object and able to recognize information about the object in the same way our brain does. Such things may seem like you as science fiction but now this can actually possible with Augmented Reality.
augmented world's insight:
What is Augmented Reality?
Augmented Reality is a kind of computer-generated reality that intent to duplicate the world's atmosphere in a computer system. An augmented reality technology creates a combined view for the user. This composite view consists of real scene viewed and a computer-generated scene with additional information about the object or a place.
How Does Augmented Reality Work?
Generally augmented reality (AR) works on two methodologies:
Marker-based
Location-based
Marker-Based: Markers based AR works on software recognize in a specific pattern, like a symbol or barcode. In this, when a camera points on an object, it creates a digital image on the screen.
Location-Based: Location-based app utilized the capability of a specific device to record the object's position in the globe. It is then provide data about the object that is appropriate to the location. You can use location-based AR to find your way around in an unknown city, recalling where you have parked your car, finding the name of stores, places, mountains, stars in the sky or anything anywhere.
Augmented Reality in Education
It may seems to be little surprising but in present scenario around 71 percent of people aged between 16 to 24 years old possess smartphone. So why aren't teachers using AR technology for engaging their students; I think they should. Augmented reality helps teachers to add digital contents with lot of information as well as geographic locations about a place or object. Digital information appears on the screen when you scan any object or place using your tablet, phone or smart devices with AR technology. This digital information is gathered from 3D models, various website, video, etc.
How to Use Augmented Reality in the Classroom
Augmented reality can be best used in the classroom for creating interactive assignments that includes moving through the campus as well as nearby place. Here are some of the possible uses of augmented reality in the classroom.
Homework: When scan the student homework page; they can see the video of their teachers assisting them in solving a problem.
Photo Wall: Display the photographs of the faculty or teacher at the display board. Students can scan the image and get all the information related to their teacher. It helps them to know about their teachers well.
Book Review: By scanning the cover image of a particular book, students can get the overview of that particular book.
Deaf Students: Using AR technology flashcard of vocabulary, students can see the video of that demonstrates how to sign a phrase or word.
See on edtechreview.in