See on Scoop.it – augmented world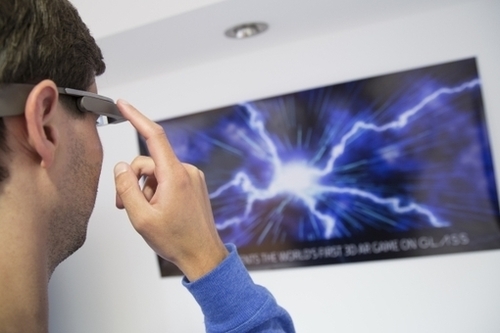 Months after unveiling its augmented reality app for Glass, Blippar is back with "another first for Glass: true augmented reality gaming."
Speaking at the Augmented World Expo, CEO, Rish Mitra announced the first augmented reality games and also revealed a new 3D gaming platform dubbed "Games for Glass," driven by its new "proprietary gesture-recognition technology."
augmented world's insight:
"Consumers are becoming more comfortable with augmented reality experiences, and are now actively seeking out new ways to engage with the technology through platforms like Google Glass." Rish said .
"Just like the early smartphone days, games for wearables are a natural "testing ground" for innovation, which is why we're investing in the space through the launch of our new, gesture-powered gaming platform. By adding this new area of expertise, we're expanding our footprint in the market, and ensuring the Blippar brand is synonymous with AR experiences of all kinds."
Users will have to open the Blippar app to trigger the virtual interface to access the gaming platform and interact with their hands and the Google Glass headset. Rish demonstrated different games including a virtual paint demo for multiplayer platform that splashes paint at an object in the real world.
People using the Blippar app for Glass, will get to see each others' paint markings when they focus on the object. Rish showcased a demo of a simple game – 3D Asteroid, by aiming the Glass towards the wall covered by a poster full of asteroids, which triggered the game, resulting in asteroids coming at him, when seen through the Glass. Touching the bar on the Glass's side or by swatting it, Rish shot the asteroids. Blippar is expected to release a new developer SDK in the next 6 weeks allowing developers to create their own Glass offerings.
See on www.techienews.co.uk