See on Scoop.it – augmented world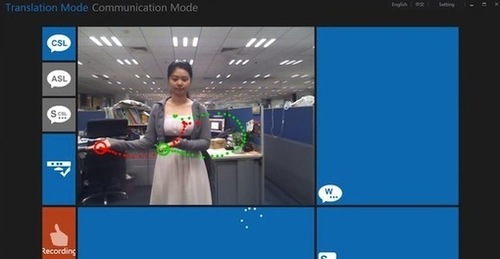 Gli scienziati della divisione asiatica di Microsoft Research hanno collaborato con i colleghi dell'Institute of Computing Technology alla Chinese Academy of Sciences perimplementare un sistema che sfrutta le funzioni di Kinect per riconoscere la lingua dei segni, la lingua impiegata dai non udenti e dalle persone aventi problemi di udito.
augmented world's insight:
Attualmente, infatti, esistono interpreti, seppur in numero limitato, della lingua dei segni ma non risulta disponibile alcuna tecnologia che consente di interagire direttamente con i computer. Anche se nel corso degli anni i ricercatori hanno esaminato a più riprese svariate tipologie di input (guanti, videocamere tec.) nessuno di essi si è rivelato la soluzione più adatta.
Il Kinect, invece, consente ai non udenti di interagire in maniera naturale, o quasi, con il computer presentando inoltre un costo decisamente ben più contenuto rispetto a tutte le altre tecnologie.
Sfruttando la funzionalità di motion tracking del Kinect la lingua dei segni viene tradottautilizzando i movimenti delle dita, della mano e del corpo oltre, ovviamente, alle espressioni del viso.
See on www.geekissimo.com