See on Scoop.it – augmented world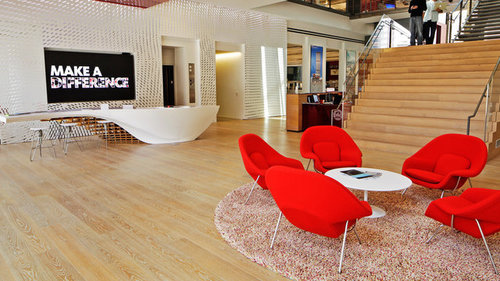 When we think of augmented reality, we tend to think of Google Glass or Vuzix glasses that overlay pertinent information on the world we see. The technology supporting those glasses has transitioned over to everyday objects that can be used without wearing unappealing eyewear. For example, a Los Angeles smart space installation uses a digitally augmented table and book that allows visitors to use hand gestures to explore digital media.
augmented world's insight:
The Multi-Surface Experience, put together by the digital signage firm The Hive and the architectural firm Gensler, serves as an eye-catching centerpiece in the lobby of Gensler's Los Angeles office. The SLO_GEN digitally augmented table was designed by architecture students from the California Polytechnic School in collaboration with Gensler. Its streamlined curves make it look like a ceramic gravy ladle when viewed from the side. The table itself is striking, but there are no electronics housed within its natural wood and HI-MACS overlayed structure. You also won't find any electronics in the book, which showcases architectural works from Gensler.
The digital magic displayed on the table's surface actually comes from a projector and Kinect sensor positioned directly above the centerpiece. People use hand gestures and tap buttons projected on the table itself to navigate the book, which shows information on a 4K Planar display mounted on a wall behind the table.
One of the unique aspects of this setup is that the digital interface is immediately oriented to the individual's location, no matter where the individual stands in relation to the table. Users can stop on any page in the book that interests them, and a tap of the hand produces more information about what is on that particular page.
See on vimeo.com