See on Scoop.it – augmented world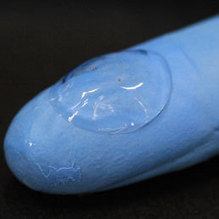 Un laboratorio sudcoreano è riuscito a inserire un elettrodo flessibile e trasparente all'interno di una lente a contatto morbida, aprendo la strada a un futuro in cui le immagini saranno proiettate direttamente nei nostri occhi, e basterà uno sguardo per scattare una foto o scandire un documento.
augmented world's insight:
Per realizzare elettrodi trasparenti, i ricercatori dell'Unist (Ulsan National Institute of Science and Technology) guidati dal professor Jang-Ung Park hanno per prima cosa scartato l'ossido di stagno e iridio, costoso e troppo fragile. Rimanevano i nanotubi d'argento (filamenti monodimensionali) e il grafene (strati bidimensionali), due materiali promettenti, ma le cui irregolarità strutturali generano una resistenza elettrica elevata. Il problema è stato risolto creando un materiale ibrido grafene-nanotubi, in cui la corrente può trovare un percorso privo di forti resistenze, aggirando le aree in cui ogni singolo componente si opporrebbe al suo passaggio.
See on www.ilsole24ore.com