See on Scoop.it – augmented world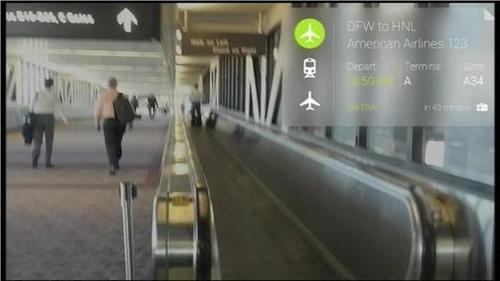 Shortly after announcing Google Glass is now on sale to anyone willing to drop $1,500 for a pair, Google also unveiled a new suite of apps for the augmented-reality smart glasses, all geared towards the situation in which they're arguably best-suited at the moment: travel. To help you keep your head up and eyes on the sites—FourSquare, OpenTable, TripIt, and WordLens.
augmented world's insight:
"A great example of this is if I'm on my way to the airport in a cab and I've got my phone out looking at my itinerary, that makes sense. But once I get out of that cab and I've got my bags and I'm hustling to the gate and I don't know what gate it is, suddenly reaching into my pocket and unlocking my phone, and opening that app becomes such a challenge," says Timothy Jordan, Senior Developer Advocate at Google.
You can use FourSquare for checking in and finding places to go without having to bury your face in your phone. Same goes for OpenTable when it comes to making a reservation, and TripIt, the app that'll help with that running through the airport scenario.
"The difference is you wouldn't have to get your phone out if you get an alert because your flight's delayed it would appear right in your field of vision so you wouldn't have to worry about holding a cup of coffee or walking through the airport holding your roller bag," says TripIt's Amy Jackson.
Perhaps Glass' most killer app of the moment, though, especially while overseas, is WordLens. All four apps are available on Glass today, as well as an update to Google's FieldTrip app that allows you to easily find all the cool stuff around you from museums to restaurants, all by simply telling your glasses you feel like exploring a bit.
See on austin.twcnews.com