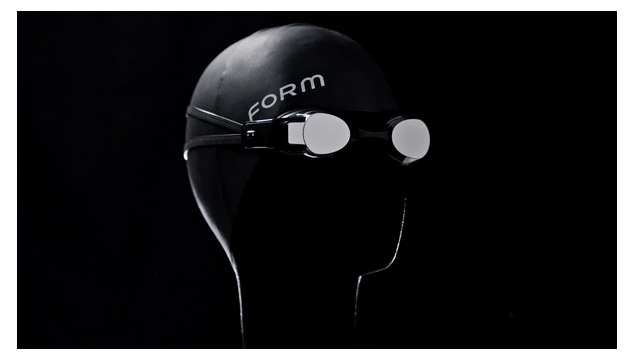 Since the introduction of devices such as the Fitbit back in 2009 and the Apple Watch in 2014, the smart wearables market has gone from fantasy to reality, offering consumers a brand new, more convenient method for connecting with their digital lives. In 2019, a majority of smartphone users find themselves utilizing some form of wearable technology, such as bluetooth headsets and smartwatches.
Sport and fitness, in particular, have benefited greatly from the introduction of wearable smart devices, allowing athletes and fitness enthusiasts the ability to monitor everything from their heartbeat and sleep schedule, to the number of calories they've burned. As previously stated, however, many of these devices tend to manifest in the form of smartwatches or bracelets; which is an acceptable format when participating in activities like running, biking, and lifting, but inconvenient when it comes to water-based sports, such as swimming. That's where the FORM Swim Goggles come in.
Announced earlier today by sports technology company FORM, these premium swim goggles monitor the wearer's performance while in the pool, keeping track of various metrics in real-time and displaying the information over the real world via an AR overlay. Powered by a miniature onboard computer, the FORM Swim Goggles feature an AI system that can monitor key information for swimmers, including their split times, distance, stroke rate, and stroke count, for 16 continuous hours. This data is then layered over the goggle's lenses, offering users unobtrusive access to data before, during, and after their sessions.
"I swam competitively for 14 years and really felt the pain of not being able to access my metrics in real time," said FORM founder and CEO Dan Eisenhardt, in an official release. "The idea for FORM came about many years ago, but we are only now entering a time when technology lets us deliver this experience seamlessly in a premium pair of swim goggles. We're proud that, through a team of top industry talent, we've been able to solve a fundamental problem in swimming."
Users will also be able to download the official FORM Swim app on iOS and Android which they can use to track and share their progress, view other swimmers' metrics, and customize their in-goggle experience.
"I competed in two Olympic Games: 2004 and 2012," added Scott Dickens, Director of Strategic Partnerships at FORM. "At the elite level, everything is measured down to the hundredth of a second. Having access to real-time metrics in your goggles is an absolute game-changer. FORM enables both swimmers and coaches to be more in tune with what's happening in the moment. Even if you're not a high-level swimmer, FORM makes swimming much more engaging and just plain fun. You always know exactly what you're doing, and you're able to compete with yourself while you swim."
The FORM Swim Goggles will begin shipping internationally August 7th starting at $199; the official FORM Swim app will be available to download that same day via the App Store and Google Play.
Featured Image Credit: FORM
Credit: https://vrscout.com/news/form-ar-swim-goggles/