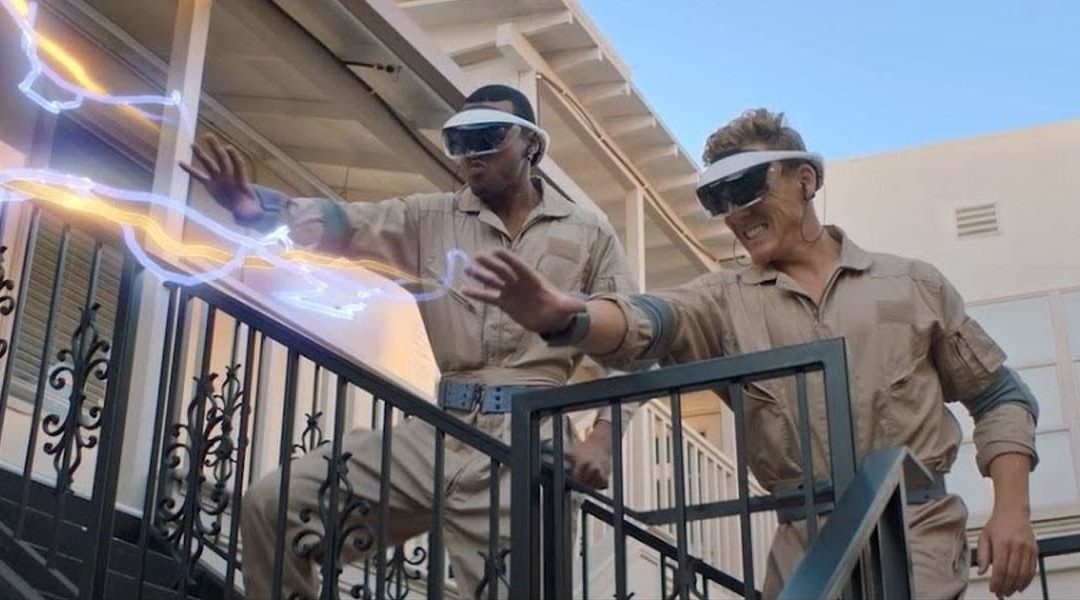 We've got almost a full year until the next installment of Ghostbusters arrives, but in the meantime, it turns out that Sony is about to launch an augmented reality experience that will let fans use immersive computing to combat the franchise's whimsical apparitions.
Starting this Saturday, fans who can make it to Tokyo, Japan will be able to play "Ghostbusters Rookie Training" using head-mounted AR devices.
The location-based experience will use a prototype AR headset from Sony, as well as assorted accessories, to give users the power to explore a real-world setting populated by virtual ghosts and demons.
But instead of putting users in a classic single-player situation, the users will all have to work together to accomplish a series of Ghostbuster-related tasks, all while communicating with each other throughout the AR location-based gaming space.
And in case there's any doubt about the depth of the experience, would-be players should be warned that each program is about an hour-long, so only truly devoted Ghostbusters fans should even think of giving this a try.
But that hour-long commitment might be worth it even for non-fans since there's apparently an appearance by the infamous evil Stay Puft Marshmallow Man.
Sony hasn't posted much information about how the prototype AR headset works, but based on the video demonstrations the headset appears to use high-end waveguides, which "might" put the headset in the same general class as devices like the HoloLens and the Magic Leap One.
Along with the headset, there are other Ghostbuster-specific props included in the experience that may or may not be interactive controllers of some sort.
Aside from the Ghostbusters experience, Sony is apparently using the prototype on a couple of other experiences. One experience puts users in an interactive museum of '60s memorabilia, and the other experience appears to be a concept for an outdoor interactive art project.
Several scenes in the other concept videos indicate that the headset may also include advanced hand tracking, along with attached earbuds and a large back-mounted module that looks like it might house a battery and some of the device's computing components.
source: https://next.reality.news/news/sony-is-launching-location-based-ghostbusters-training-experience-augmented-reality-0208432/